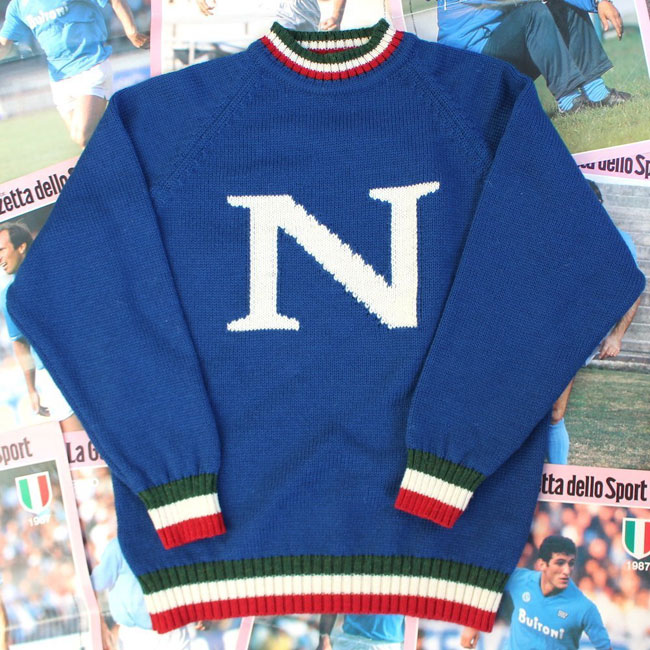 Note that I independently selected any featured products in this article. However, if you buy from one of my links it may be an affiliate and I may earn a small commission.
I love this, but you will need to move fast to get the limited edition Napoli sweater by Trickett.
It's the work of Trickett, who I have featured before when they remade the 1960s waffle cardigans. That's pretty much their thing. Limited runs, one-off designs, something with a vintage angle but not always.
All of their designs are made in small numbers in the UK and many sell out quickly as a result. This one is slightly different because you get to pre-order if you get your name down within the window. After that, it's a case of getting them made and sent out.
Getting what made? Well, the jumper/sweater above, which is the first instalment in the label's 'jumpers for goalposts' collection, which celebrates everything that is wool and football-related.
The Napoli is inspired by a jumper the man behind Trickett saw worn by an Ultra circa 1989 in a documentary, presumably homemade.
It has Italian flag cuffs, hem and neck, the massive 'N' in the middle and the azure colour. As for the design, it has a slightly higher neck than a normal crew neck jumper, which pays homage to the cycling jerseys of the 1950s. It also has a raglan sleeve and is made of 100 per cent British wool. Warmth guaranteed.
If you want to pre-order, you can do that now for the price of £85.
Find out more at the Trickett website
Note that the pre-order for the Napoli sweater ends at 12pm on 21st February 2020.
Love His Knibs? If you enjoy what you read and want to support the site, you can always Buy Me A Coffee.