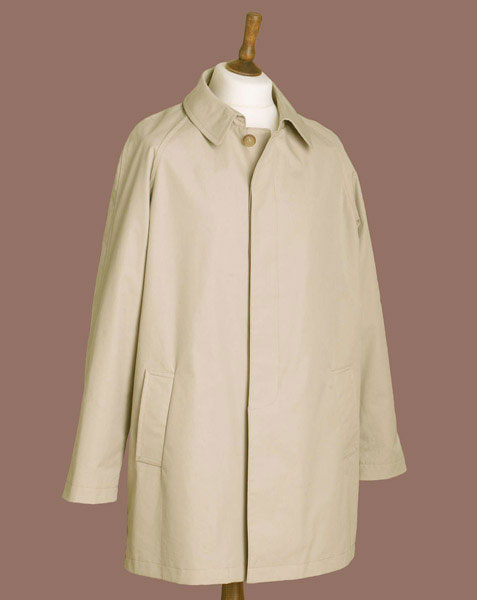 Note that I independently selected any featured products in this article. However, if you buy from one of my links it may be an affiliate and I may earn a small commission.
It's raining. A lot. So time to pull together my list of 10 of the best 1960s-style raincoats to keep you dry.
Once upon a time, something like this was a case of working your way through the racks of a vintage shop or charity shop. That's what I used to do and I still have a decent Marks and Spencer vintage raincoat in the wardrobe to prove it.
But this is the 21st century and pretty much everything is being remade or brought back. 1960s-style raincoats are no exception. In fact, it's a great time to pick one up, with various designs covering everything from budget to premium.
I have picked out 10 that hopefully show that off. As ever, these are in no particular order…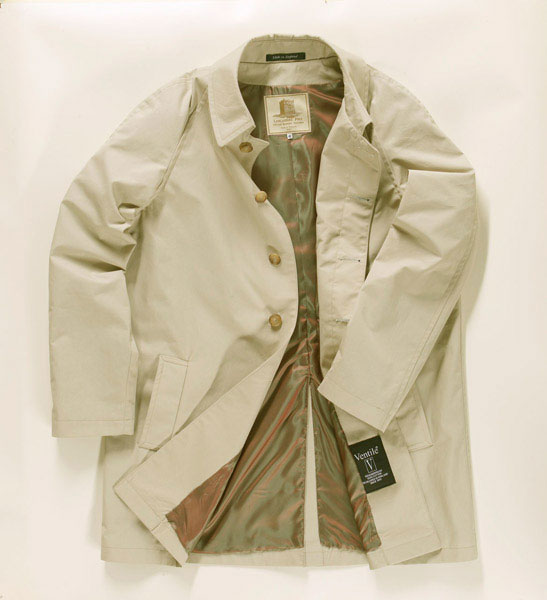 1. The Harry Palmer raincoat by Lancashire Pike
If you want authenticity, The Harry Palmer raincoat by Lancashire Pike is the coat for you.
Made to order, this is inspired by the coat worn by Michael Caine in the Funeral in Berlin movie. A button fly front raincoat made in single-layer L24 Ventile and lined in retro silk with a luxurious iridescent appearance. Also here are raglan sleeves, concealed pockets and an inside zip pocket.
Allow 6 to 8 weeks for it to be made for you and budget £375 if you want one.
More photos here and you can order directly from the maker.
Find out more at the Lancashire Pike website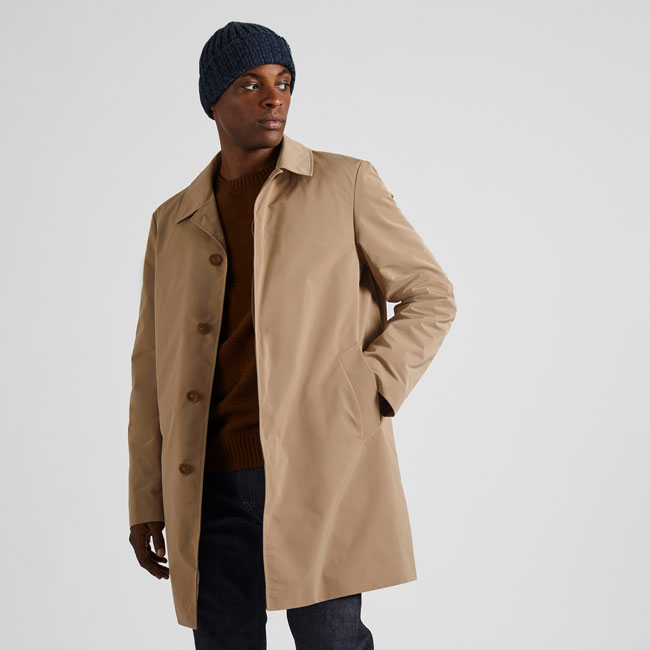 2. Classic single-breasted raincoat at Uniqlo
If that's a bit pricey for you, have a look at this budget option at Uniqlo.
Ok, you comprise on some details, the cloth and the bespoke nature of the above, but the look is a similar one, a single-breasted raincoat with concealed buttons, slant pockets, a water-repellent coating and a single vent at the back.
£89.90 is the price of this one officially, but you can get one in the sale right now for £69.90.
Find out more at the Uniqlo website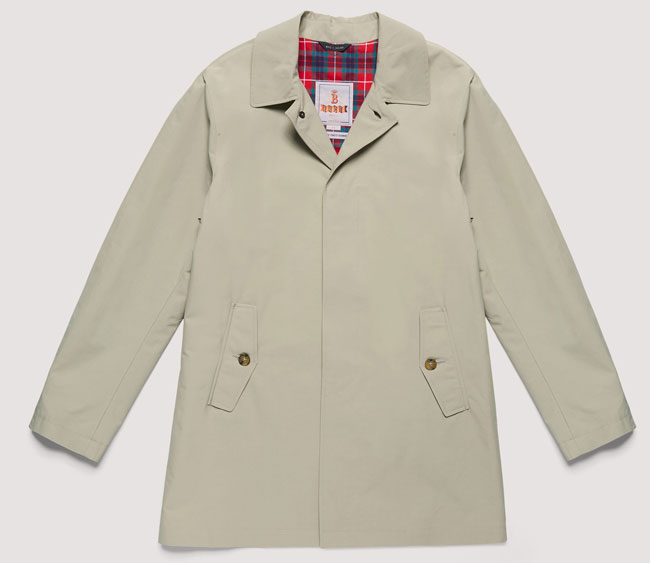 3. Baracuta G10 raincoat
I'm not sure if this one is described as a car coat or a raincoat. I'm going for the latter.
Yes, Baracuta does more than Harrington jackets, although it is easy to forget that at times. The G10 is another of its timeless designs and a solid piece too. This one is never going to age.
Various colours available and a design that touches on its classic Harrington. So an umbrella-effect yoke at the back, button pockets and partial Fraser Tartan lining on the inside at the back. But hid is very much a raincoat, although slightly shorter than some, complete with concealed buttons at the front.
£475 is the current price.
Find out more at the Baracuta website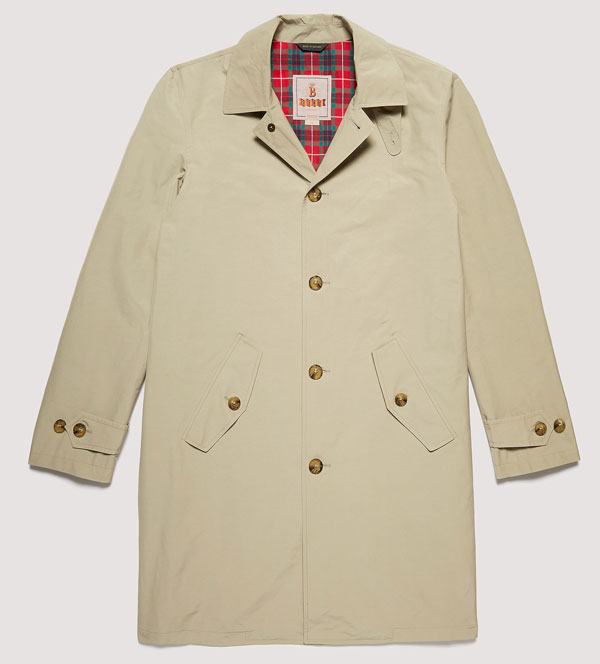 Update: You can currently get the limited edition G10 Peyton Place (with a couple of extra details) in the sale in three colours. All are substantially reduced from £415 to £207.50. Worth checking out – and you can see them all here.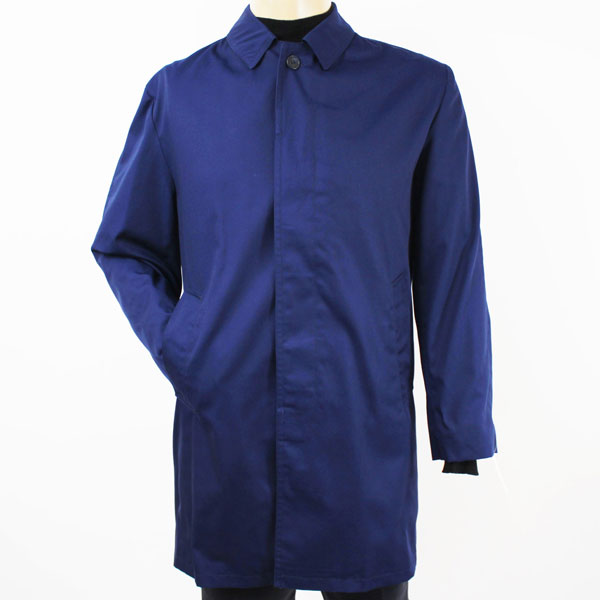 4. Classic 1960s raincoat at Jump The Gun
If you want a 1960s raincoat, you probably want to look at a 1960s retailer. Like Jump The Gun, for example.
Another coat inspired by the Harry Palmer look, this is a fitted raincoat in various colours and minimal details. Outside pockets, a buttoned inside pocket and concealed buttons.
£150 for one of these. Note that you will need to size up if you want to wear over a suit.
Find out more at the Jump The Gun website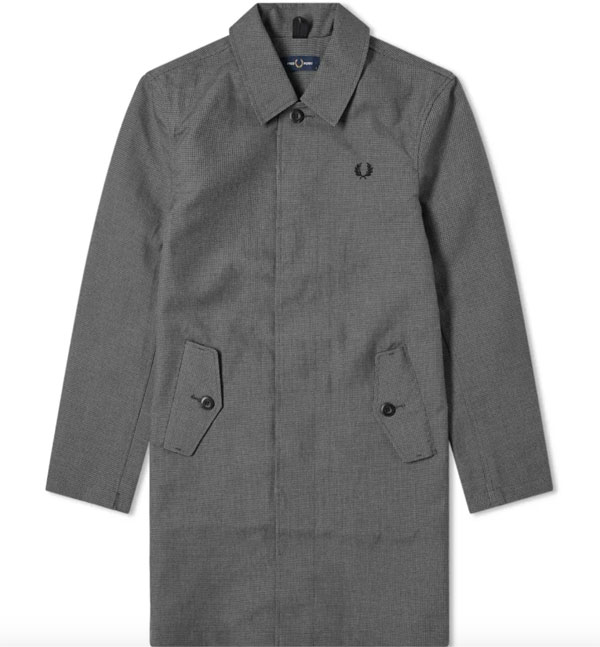 5. Fred Perry Authentic Houndstooth Mac
What's in a logo? It's probably the deciding factor for many purchases one way or the other – and certainly for this mac.
Basically, you want the Fred Perry Laurel Wreath or you don't. That's not just related to FP, it's all labels. If you like the logo, you will probably fall for this one. It's a lovely coat.
A rework of a classic vintage look, i is constructed from premium polycotton in a 'reduced grey houndstooth' and cut with a slim fit whilst finished with tonal buttons and topstitching. £195 gets you one.
Find out more at the End Clothing website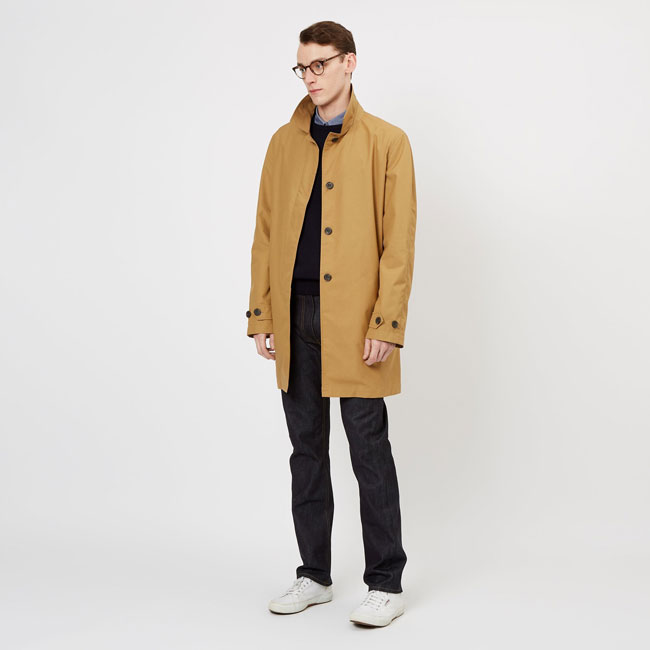 6. British Millerain raincoat at Community Clothing
I think I briefly mentioned this label in a previous rundown. If you missed it, let me explain.
Community Clothing uses spare capacity in established British factories to produce quality clothing and selling it at a reasonable price. Plenty of classic silhouettes too – like this one.
This is made using a 7oz waterproofed 100% cotton from British Millerain in Rochdale, who have produced quality British fabrics since 1880, The coat itself is three-quarter length, single-breasted and with concealed buttoned and an adjustable button cuff. Two colours, with each selling for a reasonable £129.
Find out more at the Community Clothing website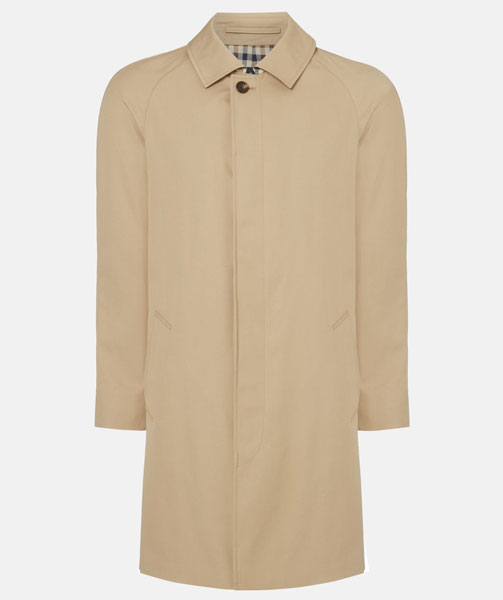 7. Aquascutum Sheerwater raincoat
Hard to do a round-up of 1960s-style raincoats without mentioning Aquascutum. One of the first names you think of when it comes to classic coats of this type.
They do several and your preference will be dictated by the length you want. They do shirt, medium and some very long raincoats, so I've gone down the middle with the mid-length Sheerwater.
A classic single-breasted silhouette with concealed button fastening, back vent, button cuffs and of course, the trademark Aquascutum lining for both the inside and the collar.
Not cheap at £500, but this label rarely comes cheap. Saying that, if you are reading this in time, Aquascutum is doing 30 per cent off everything for Black Friday.
Find out more at the Aquascutum website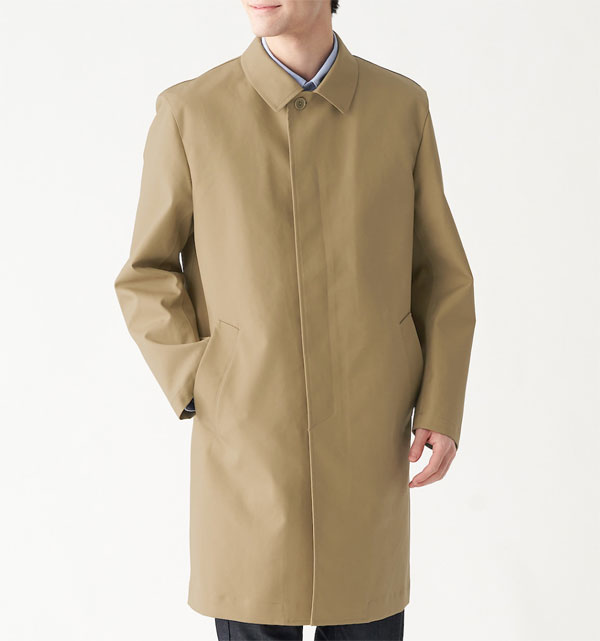 8. Waterproof convertible collar coat at Muji
Not necessarily the first place to look for a coat, but I'm glad I did look here.
You probably know Muji as the Japanese label focusing on fairly neutral designs for the home and for both men and women. It's all about the function. But that lends itself well to designs like this. Hence its inclusion in the best 1960s-style raincoats round-up.
A no-nonsense, classic raincoat made from a waterproof material to keep the rain out and detailed with slant pockets, a single rear vent and concealed buttons. £99.95 is a fair price too.
Find out more at the Muji website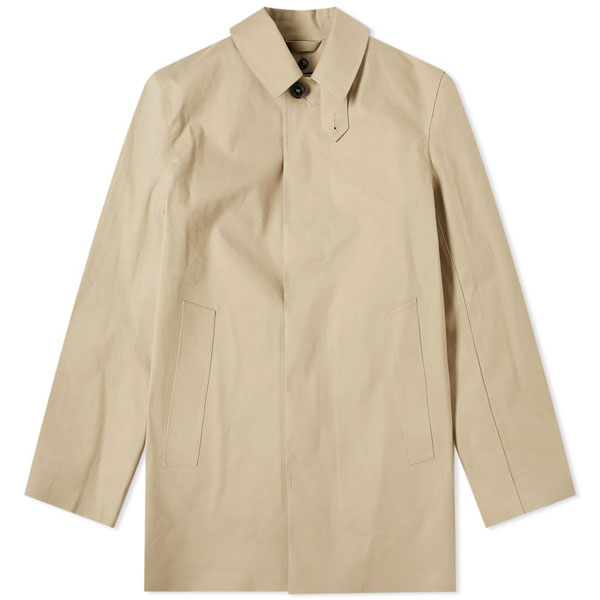 9. Mackintosh Dunoon classic mac
Another brand that has to be in this rundown and another available in various colours. I think I prefer the fawn version pictured here.
But the coat is a classic, one of the signature rubberised coats from the label and still made by master craftsmen, entirely by hand, in its factory outside Glasgow. Each one is worked on individually from start to finish by the same master craftsman. So each is individual to you.
As for the fabric, it uses two layers of cotton sandwiched around a thin layer of natural, impermeable rubber. A special rubber-based solution is applied, along with a water-resistant tape, making the finished coat 100 per cent waterproof.
Stylish too, as this one looks as good as anything on the page. The Dunoon is the three-quarter length version, with detachable wool lining, back vent, button closure with storm flap and a throat tab.
£995 for this one, which is quite an investment.
Find out more at the End Clothing website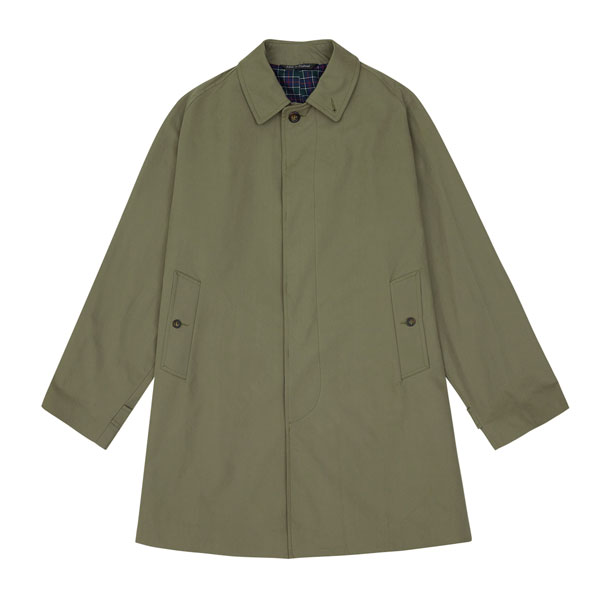 10. John Simons Showerproof Raincoat
Of course, John Simons does classic raincoats. Including this one, but do check to the others.
It is what it looks like, which is a raincoat with a timeless shape, button cuffs, button pockets and concealed fastening. Single vent and a blue check cloth lining too. It's also the one the man himself wore some decades back.
£395 for this one, with a similar gabardine overcoat also available for £395.
Find out more at the John Simons website
Talking of classic, I didn't quite have the space to mention Grenfell on my best 1960s-style raincoats which also has a strong reputation when it comes to this kind of coat. Check them all out here with prices starting at £595.
Love His Knibs? If you enjoy what you read and want to support the site, you can always Buy Me A Coffee.