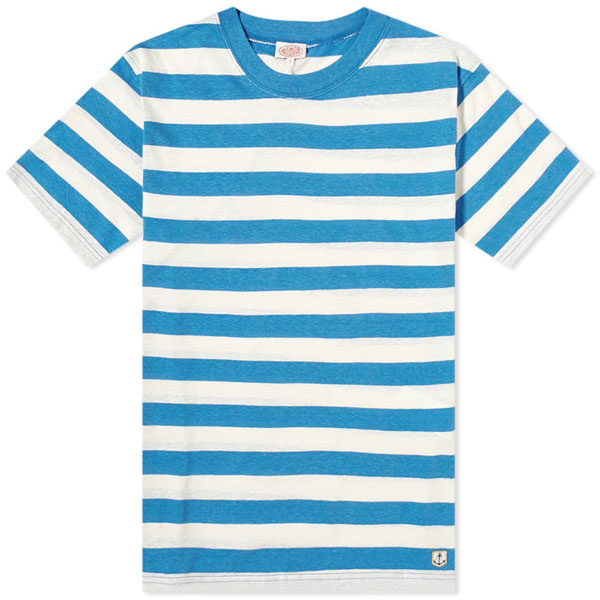 Note that I independently selected any featured products in this article. However, if you buy from one of my links it may be an affiliate and I may earn a small commission.
A timeless look and at this time of the year, a strong one too. So a round-up of 10 of the best classic striped t-shirts seems a good idea.
Even better now as there are sales on that feature a number of stripey t-shirts. So a good time to shop if you want a bargain.
As for the rundown, I've tried to look for a classic/heritage look as well as deals in the sale and a mix of price points. I haven't featured a Breton (more on that at the end) and I would normally feature Uniqlo, which always does this look well. But this year it has sized up all its t-shirts and all the ones there look a bit 'rent-a-tent'. But have a look if you think you can size down, as value is always there.
One last thing – I haven't featured anything with an obvious logo. Just a personal thing. Logos are fine sometimes, but in this case, I don't think it helps. That's all, check out the 10 below.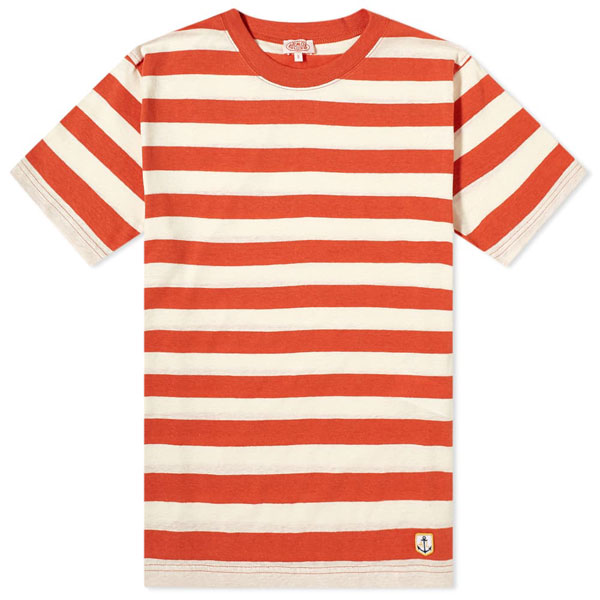 1. Armor-Lux wide stripe t-shirt
Let's start with a company synonymous with a stripe. Armor-Lux.
You probably think 'Breton' when you hear the company name and they are well worth checking out. But their striped t-shirts are also very nice and in a number of designs. I have picked out the wide stripe purely because it's a personal favourite and available in various colours.
You can pick one up for around £45.
Find out more at the End Clothing website
You might also want to check out the End Clothing Sale, which has striped t-shirts and tops from Armor-Lux at up to half price. Similar discounts at The Hip Store too.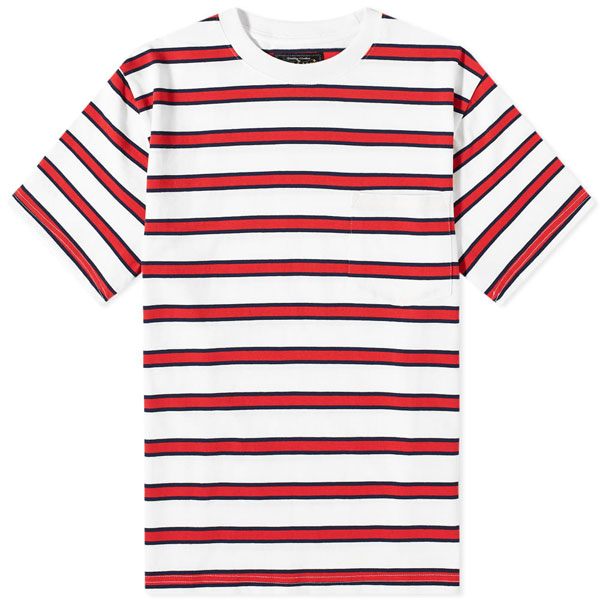 2. Beams Plus tricolour stripe t-shirt
Another noted exponent of the striped top, so again it's hard to pick one out. Randomly, I have gone for the Beams Plus tricolour stripe t-shirt.
Randomly because I could have picked out a number. This one just happens to have caught my eye. A couple of colours for this design, which is made from 'comfy' cotton fabric, with red and blues stripes, crew neck and chest pocket. Quality construction, as you would expect from Beams Plus.
If you want one, £85 is the price.
Find out more at the End Clothing website
Again, a good time to be buying in the sales, with lots of Beams Plus heavily discounted at End, including some striped t-shirts.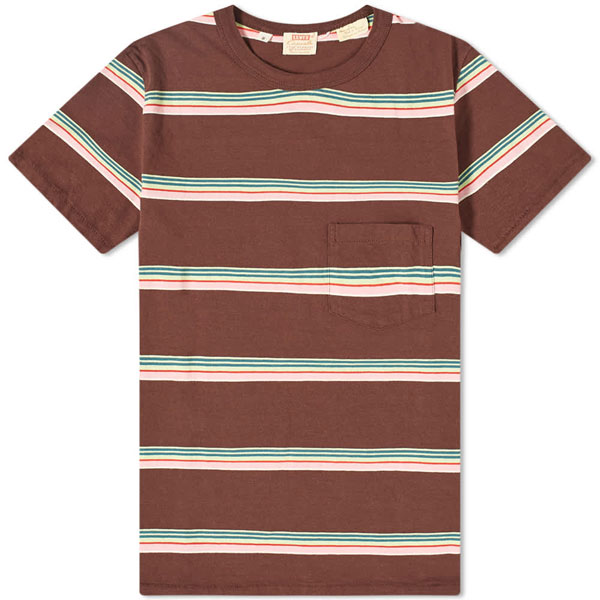 3. Levi's 1960s stripe t-shirt
If you want authentic-looking vintage, then look no further than Levi's Vintage. But it always comes at a price.
This could be a 1960s find, but it's actually a reproduction of a something from the Levi's archive. Great quality, a strong vintage look plus a subtle chest pocket in place.
If you like it, £55 gets you one.
Find out more at the End Clothing website
Note that there is also a wide stripe Levi's Vintage top in the sale at End for just £29 now if you are quick.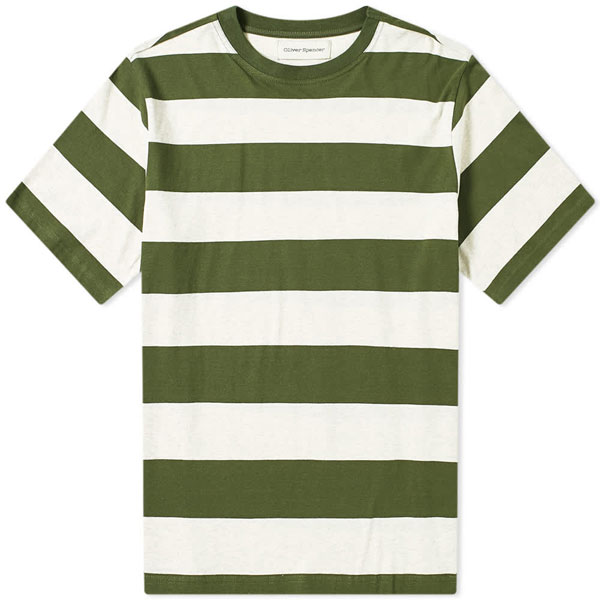 4. Oliver Spencer Paz bold stripe t-shirt
Take your pick from attractive combos for this Oliver Spencer design. Even better, a couple of them are in the sale right now.
Another quality item produced from a soft organic cotton jersey, although the slight split hem might not be for everyone. Love the chunky stripe though.
It sells for £75, But as I said, there are some colours in the sale, down to £49.
Find out more at the End Clothing website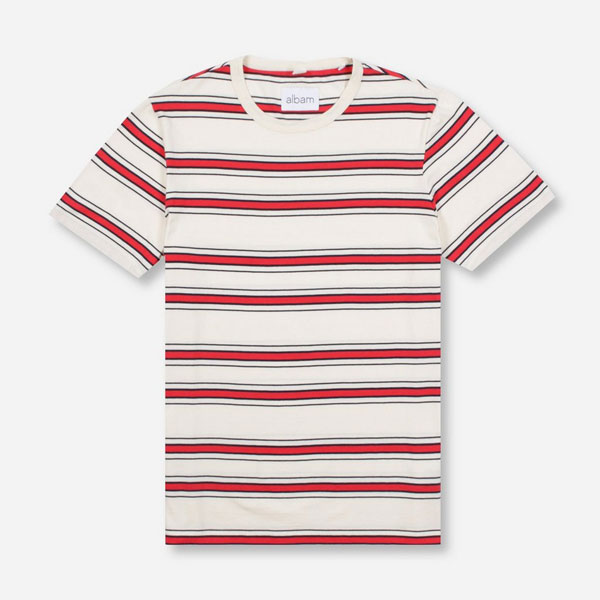 5. Albam heritage stripe t-shirt
Two colour options, one good-looking t-shirt.
Bit of a vintage look to this one and not a million miles away from the Beams Plus stripe looking up the list. But it's an individual in its own right, made of 100 per cent cotton and selling for £55.
Find out more at the Hip Store website
It is well worth checking out the Hip Store Sale too, with plenty of Albam discounts including more striped t-shirts.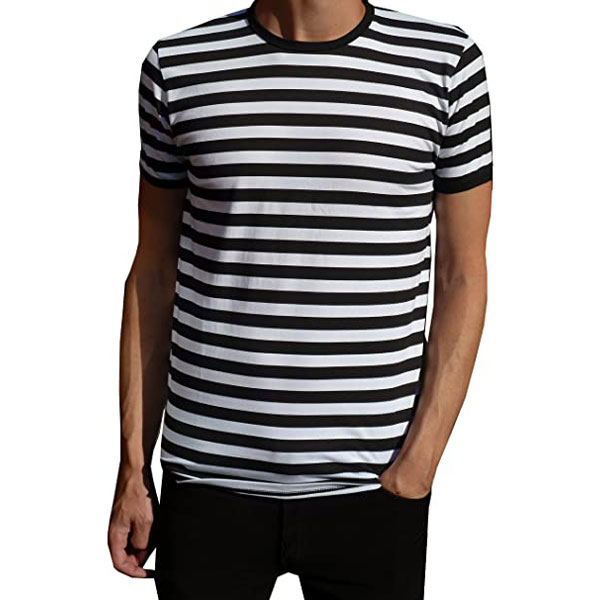 6. Fuzzdandy budget stripe t-shirts
Anyone for a budget option? Got a couple of those, kicking off with the Fuzzdandy budget stripe t-shirts.
You might recall me featuring their budget cord jackets, which has been a very popular option. But they do other designs too, like these t-shirts.
They do long and short sleeves with contrast cuffs and collar and choices of colours, with all slim-fit and affordable. You are looking at just £14.50 for one of these.
Find out more at the Amazon website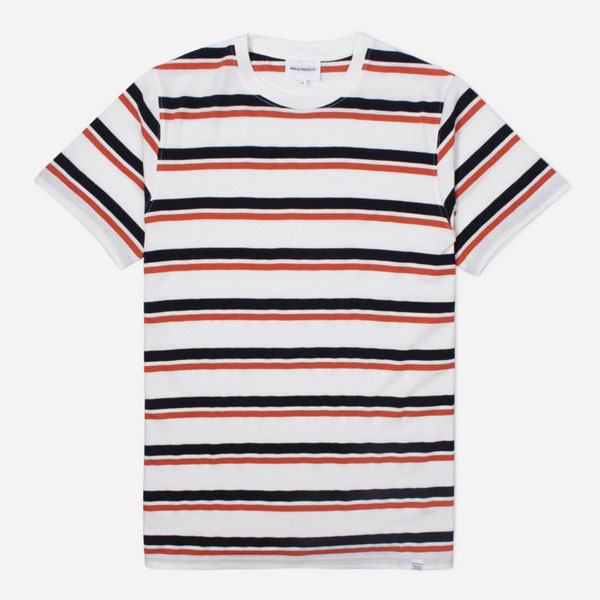 7. Norse Projects Niels stripe t-shirt
Another sale find, this one from Norse Projects. It's a great time of the year to be doing this round-up in light of discounts and weather.
A red and black stripe on a white background with a ribbed crew neck and all in 100 per cent cotton. It's usually a pricey affair at £75 too.
But right now you can get it on this colour and one other for £53.
Find out more at the Hip Store website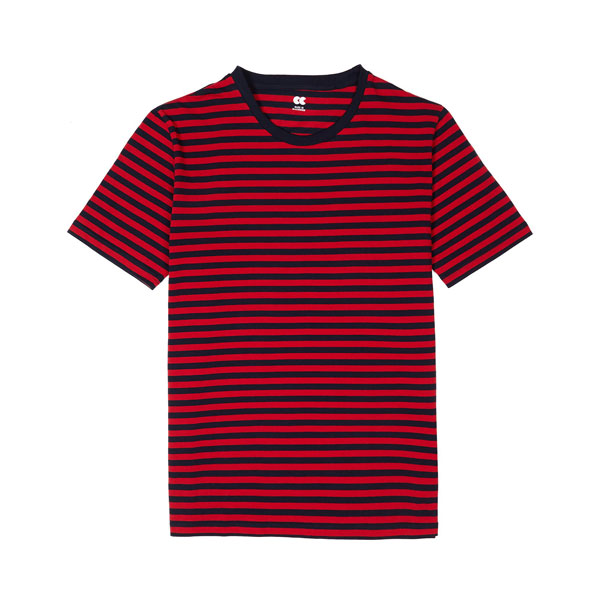 8. Striped t-shirts by Community Clothing
Another affordable option, courtesy of these striped t-shirts by Community Clothing.
As you probably know, Community Clothing creates affordable clothing in the UK by making use of spare capacity in factories. The end result is clothing that looks more expensive than it actually is.
Striped t-shirts of course, with long and short sleeves and different colour options, with the one pictured here yours for just £29.
Find out more at the Community Clothing website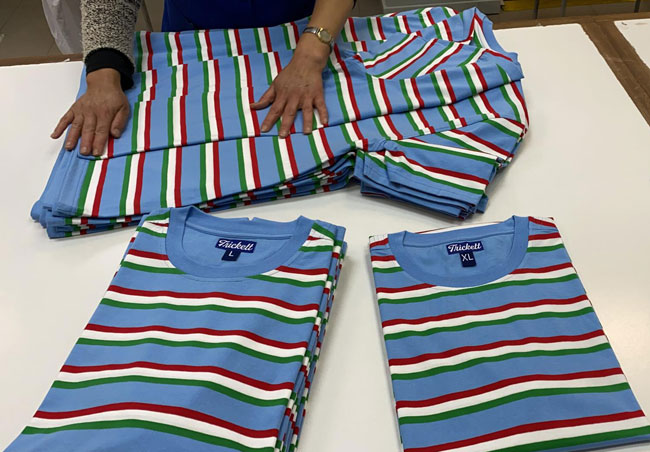 9. Tricketts Napoli stripe t-shirt
This one isn't out yet, but I couldn't resist featuring this in the best classic striped t-shirts rundown as it's a beauty.
You might recall Trickett producing the lovely Napoli sweater early this year. It is being followed up by this t-shirt in Napoli club colours. A great vintage look even if you don't support the team. Each one is made in Portugal using a custom-knit fabric and it will be a limited edition.
As for price and availability, they should be around in the next couple of weeks and selling for £25, which is a bit of a steal.
I would recommend keeping an eye on the social media of Trickett to make sure you get in the queue.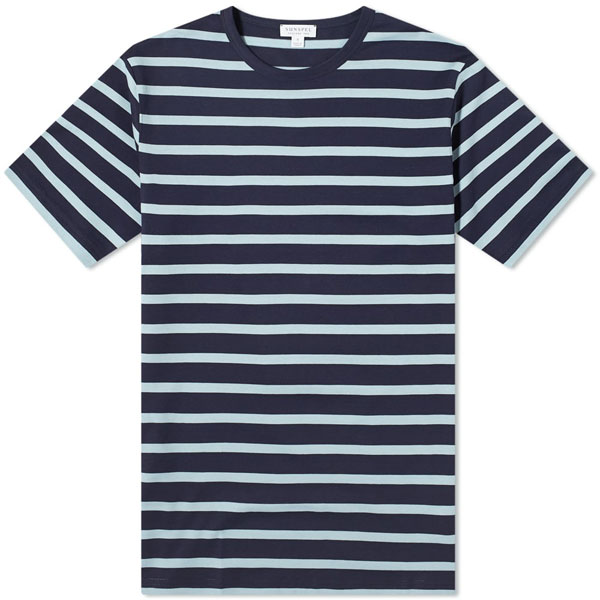 10. Sunspel Breton stripe t-shirts
It isn't a Breton, but it is a Breton stripe on a t-shirt.
A quality item, as you would expect of Sunspel, this is a Pima cotton tee with a ribbed crewneck and with four colour options, one of which is in the sale.
£69 is the full price but if you get in quick, the navy on white is down to £45.
Find out more at the End Clothing website
I touched on Bretons there and of course, that's a whole different round-up. But if you are interested in this best classic striped t-shirts round-up, then I would suggest you have a look at the deadstock 1960s Breton tops by Ham Yard Vintage, which look and feel great. I have got two and they are amazing things.
Love His Knibs? If you enjoy what you read and want to support the site, you can always Buy Me A Coffee.