Something of a clothing icon is landing at the end of this week. The Peter Tosh zip-through top by 66 Clothing.
Well, it's actually just known as the 'Stir It Up', and yes, it is that top from that TV performance. You know the one.
When Bob Marley and The Wailers played on the Old Grey Whistle Test in 1973, it wasn't just Bob and the tunes that got the attention. To his left was the icon that was Peter Tosh, looking effortlessly cool in a knitted hat and shades. Plus one other thing.
A Piece of knitwear looking not unlike the one here. I have no idea where the original came from. It was just a zip-through top in purple, offset by some details in light blue. Once seen, never forgotten. And that's obviously the case for the people at 66 Clothing.
You may or may not know that they have been producing something called the Icon Series, which is essentially producing items based on pieces of clothing worn by music legends of the past. This is the latest addition to the range and, for me, the best one yet.
This is a top that might date from the early 1970s, but it's right on the money almost 50 years on. I've seen plenty of similar designs around like this – but none just like this.
As I said, this one replicates the original Tosh knit, with the bomber jacket collar, zip front and contrasting details to the collar, cuffs, hem and arm.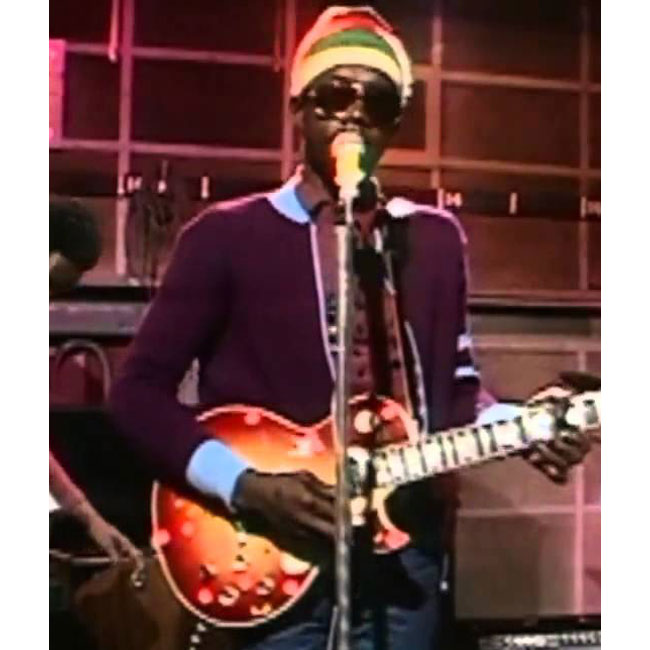 Fairly lightweight, it works on its own as a jacket or as a layer when it gets cold under or over something else. A versatile piece as well as a good-looking one. And all with that cool Peter Tosh vibe going on.
It lands on Friday, priced at £84. Likely to sell out pretty quickly in the popular sizes, I would guess.
Love His Knibs? If you enjoy what you read and want to support the site, you can always Buy Me A Coffee.