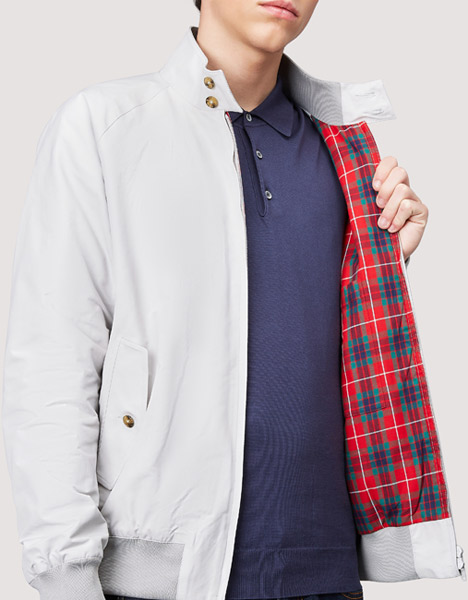 Note that I independently selected any featured products in this article. However, if you buy from one of my links it may be an affiliate and I may earn a small commission.
Looking for a new jacket? If you are considering a Harrington, let me help, as I've picked out 10 of the best classic Harrington Jackets.
It's a timeless piece, worn by some of the most stylish males in history. Think Steve McQueen for example and you probably think of the actor in a button-down with his Harrington collar up. It doesn't get much sharper than that. Although James Dean and Elvis Presley in their Harringtons might give him a run for his money.
Of course, it has also been a mainstay of the ivy league and the mod scene for decades, as well as simply being a great all-round jacket with a name coined by that London clothing legend John Simons.
Labels are wise to its enduring appeal, which is why there are so many jackets in the Harrington style out there right now. So with that in mind, I have pulled together 10 of the best classic Harrington Jackets, which will hopefully feature something that catches your eye or works with your budget.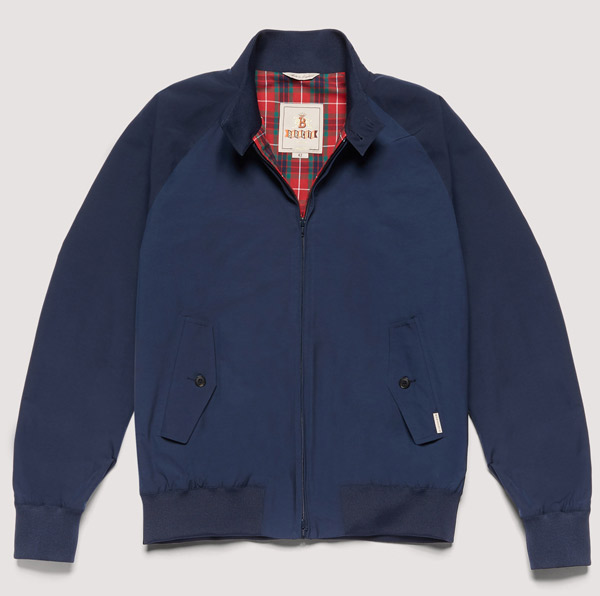 1. Baracuta G9 Harrington Jacket
I'll start with the market leader and the jacket that has probably been worn longer and more widely than any other in this list.
The first Harrington Jackets were actually made in the 1930s – and Baracuta was the company behind them (although Grenfell might want to discuss that issue). The design has barely changed since and this is still the jacket all the others aspire too. Although some of the other jackets have details that might give them added appeal.
The G9 is available in plenty of colours and finishes, from a subdued classic in cotton and polyester through to premium finishes in cord, leather and suede, as well as thermal versions for the colder months. More too, there really are too many to mention. All with the same details, such as the umbrella vent, button collar and angled flap pockets, with a Fraser tartan lining finishing things off.
It's probably the first jacket to consider, with prices starting at £295.
You can buy them at End Clothing or directly from Baracuta.
Note that there are still some sizes of the Baracuta Archive Fit G9 Harrington Jacket available at half price, which was a limited edition via Stuarts of London. You can find out about that here.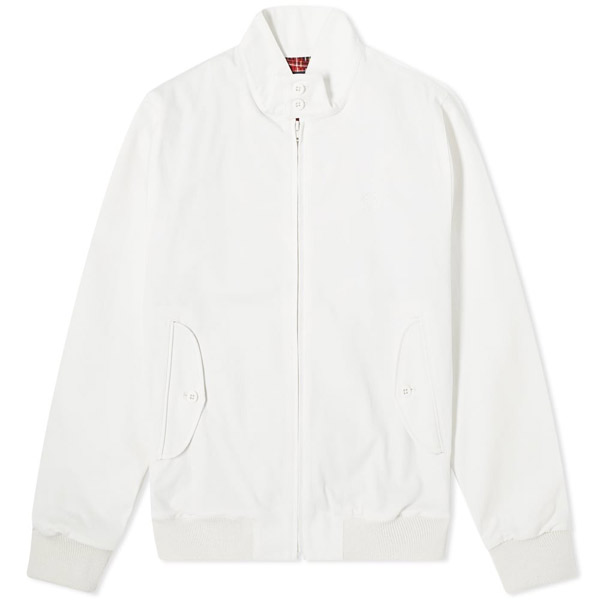 2. Fred Perry Harrington Jacket
Another company that has been making a Harrington Jacket for a number of years is Fred Perry.
Cheaper than a Baracuta (and still made in the UK), it isn't a million miles away from that design, but with a couple of tweaks to make it an individual piece. The logo is the obvious one, a slightly different cut too plus different colours. In fact, like Baracuta, they even do a cord version now.
£199 is the price of a Fred Perry take on a classic. Personally, I really like the white one. But other colours are probably more practical.
Grab one at the End Clothing website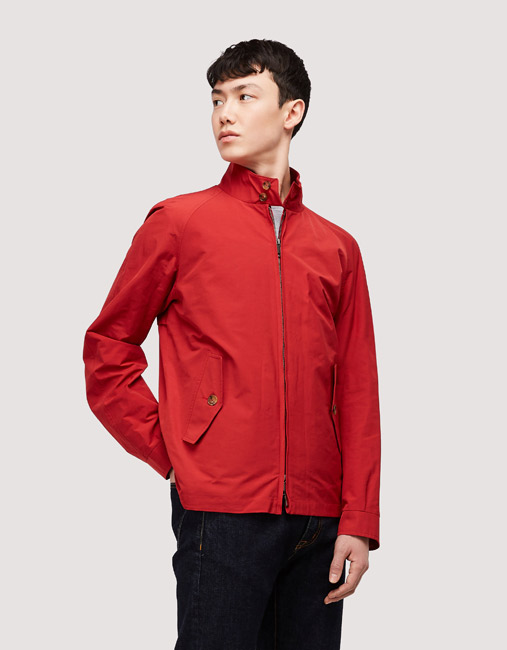 3. Baracuta G4 Harrington Jacket
The poor G4 often gets overlooked because of the success of the G9. Which is a shame as it's a star in its own right.
The G4 is basically a slight rework that was originally designed for golfers and golfing. Not far from Grenfell's golf jacket in fact. Of course, you still get the same collar, zip front and pockets, as well as the Fraser tartan lining and the umbrella vent.
But this one doesn't have the elasticated waist and cuffs, instead going for something straighter and a little cleaner. A slightly smarter Harrington for my money. Talking of money, you are looking at £295 for one of these.
Find out more at the Baracuta website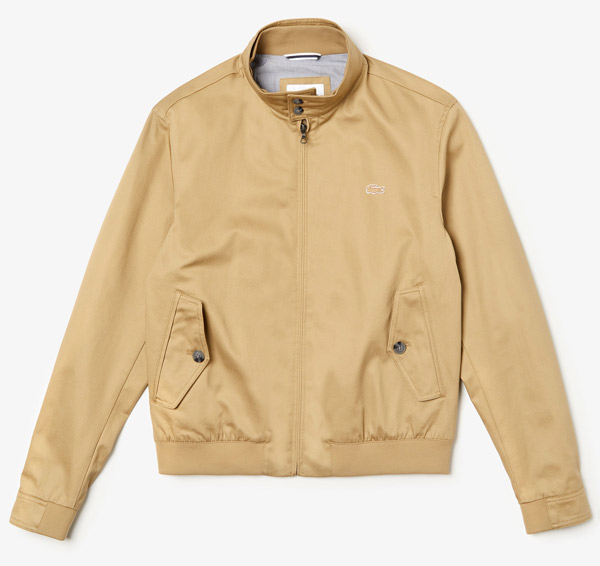 4. Lacoste Harrington Jacket
What's in a logo? For many people, quite a lot, both in terms of being seen with the right one and the history it often brings to the table.
I say that because the Lacoste logo is either a big selling point or something you might not want on your chest. That might be one of the reasons to love or loathe this one.
If you don't mind the logo, have a look at this jacket, officially known as the Short Zip Cotton Twill Jacket. Take your pick from four colours, each with the buttoned stand-up collar, mesh lining, exterior flap pockets and interior zip pockets, a ventilated panel in the back and the embroidered tonal crocodile on chest.
A good looking thing, especially with that button cuff, it sells for £230 officially, but you can get one for £138 in the sale right now.
Find out more at the Lacoste website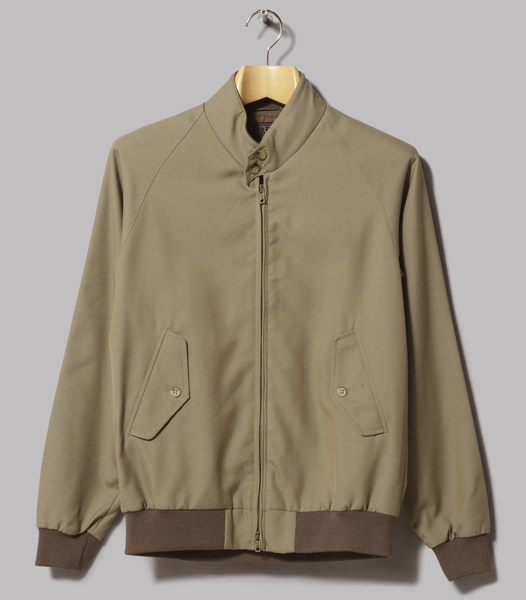 5. Beams Plus Wool Harrington Jacket
I could wax lyrical about Beams Plus for an age – and I often do. Featuring its take on the Harrington Jacket was always going to happen.
Beams Plus is a Japanese label recreating some classic pieces from the middle of the 20th century – or at the very least, inspired by that era. It has finally got round to doing a Harrington and it is a winner.
It does pretty much everything you expect of it. A classic look, but with the wool construction a little warmer than your average Harrington. Just the one colour and the details on it include a cotton lining, buttoned neck tab, dual zip fastening, raglan sleeves, two buttoned pockets and interior pocket and ribbed cuffs and hem
£302, which is cheaper than I would have expected.
Find out more at the Oi Polloi website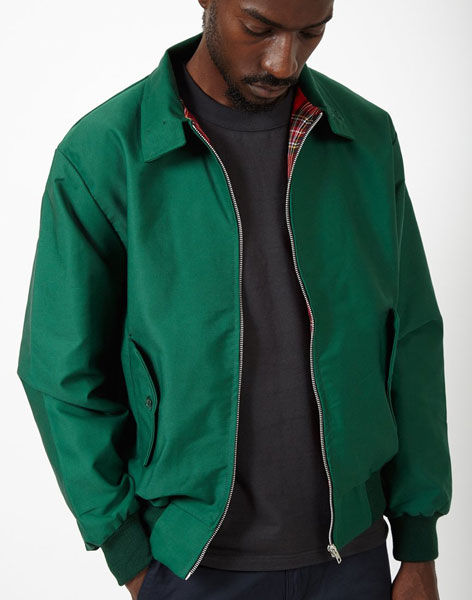 6. Made in England budget Harrington Jackets by The Idle Man

This is the absolute bargain amongst the selection here, many of which are on the pricey side. This is a wonderful budget option.
The Idle Man sells a number of premium brands, but it also does its own brand of staples, including a Harrington jacket in six colours. Made in England, which is unusual for a budget option, it packs in all the classic details of a Harrington, from ribbed cuffs and hem through to the buttoned pockets and the button collar, as well as the tartan lining.
If finances are a little tight, this is the jacket for you, selling for just £35.
Find out more at the Idle Man website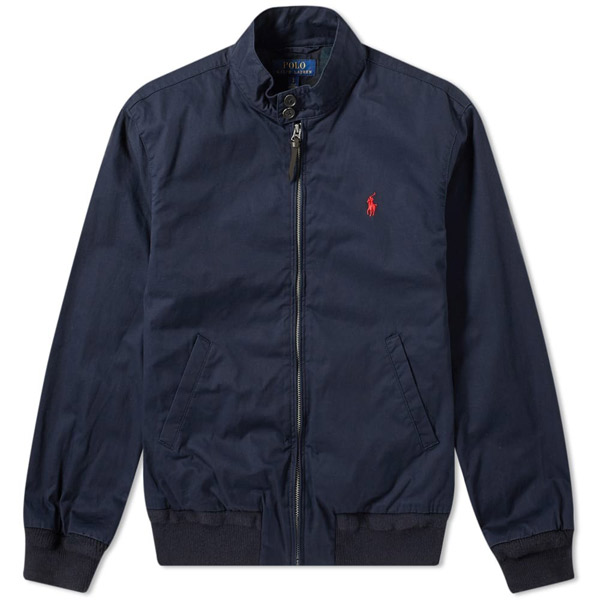 7. Ralph Lauren Barracuda Jacket
That thing I said about logos when I was talking about Lacoste? You can apply it here too.
This is a lovely Harrington, especially in the navy and one that's priced alongside the Fred Perry. As for details, a plain back, two-button collar, zip front with tag, two slash pockets and ribbed cuffs and hem. The deal-breaker? The 'Polo' logo for some, although personally I don't mind it at all.
£140 is the price of this one in the sale.
Find out more at the Flannels website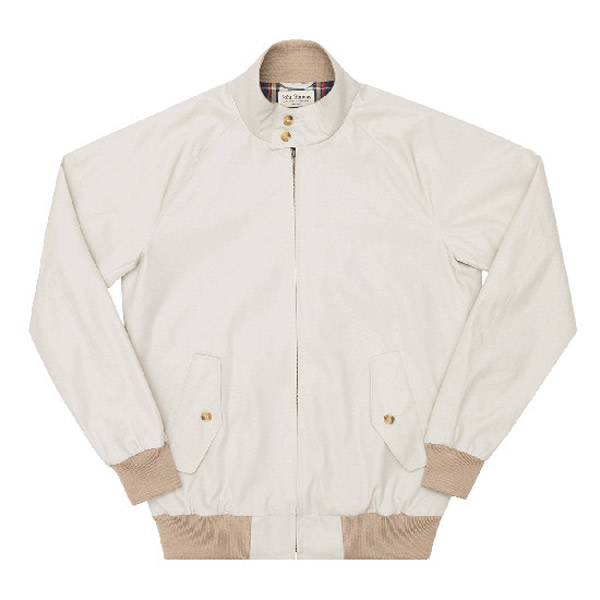 8. John Simons Harrington Jacket
The second 'seasonal' Harrington Jacket. Which is a shame as it's a good one.
As you probably know, John Simons is the home of ivy league clothing in the UK and when it comes to the Harrington, he knows all about them. After all, John Simons was the man who gave this golfing jacket the 'Harrington' name.
When it does reappear, this own-brand, made in England jacket is as you would expect with the button collar, button pockets and elasticated waist and cuffs. The main difference from Baracuta is the cut (this one is a slim-fit) and the check lining, which is very different from the Fraser tartan Baracuta opts for.
When they come back there are various colours and a price tag of around £225. Perhaps drop them a line or give them a call if you are interested.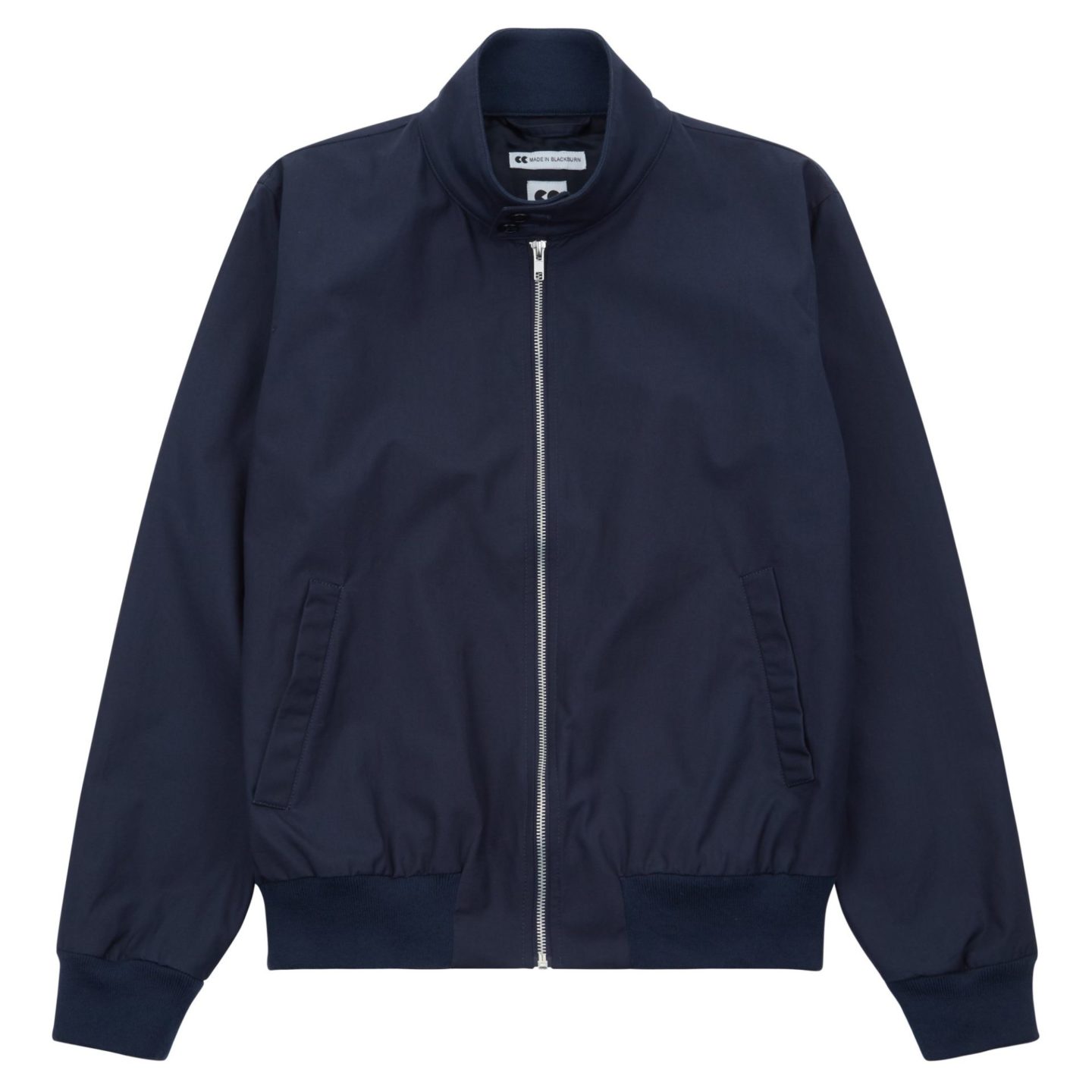 9. British Millerain Harrington Jacket by Community Clothing

A great jacket, with a great back story attached to this one too.
Let's talk about the jacket first, which is made of 7oz waterproofed cotton from British Millerain in Rochdale, who have been producing fabrics like this since 1880. The jacket has then been put together in Blackburn and finished with a two-button collar, ribbed cuff and waistband and an internal pocket. Fully-lined too.
What is interesting is that Community Clothing utilises 'downtime' in UK factories to get its clothing made, keeping skilled workers in work and getting a quality product as a result. But without it costing a fortune. Available in two colours, this Harrington is just £109.
Find out more at the Community Clothing website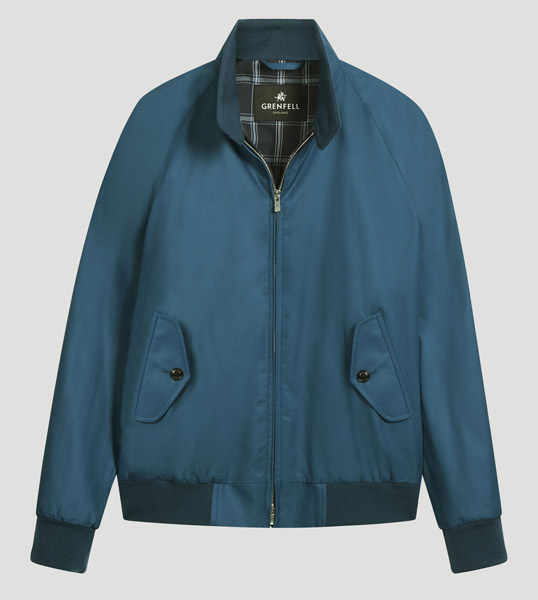 10. Grenfell Harrington Jacket
I mentioned Grenfell at the start of this article as the company has had a key role in the development of the Harrington Jacket.
In fact, there has been some discussion over who made this design first – Burnley-based Grenfell or Manchester-based Baracuta. I don't think anyone will settle that argument.
But I do know that Grenfell still makes a Harrington Jacket in various colours and different finishes. Mainly cotton, but you can go for a wool version if you want to. Like the others, the difference is in the detail.
Yes, the button collar, umbrella vent, buttoned pockets and elasticated waist and cuffs. But a different tartan lining, a subtle change of cloth for the collar lining and of course, different branding.
A similar price though, with the jackets retailing for around £295.
Find out more at the Grenfell website
And finally, a couple of extra budget options…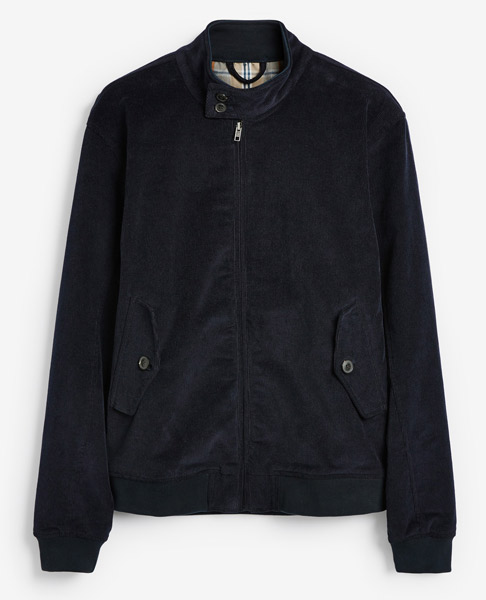 Next cord Harrington Jacket
I have compiled 10 of the best classic Harrington Jackets here, but all I have featured have been well into three figures. However, if you hunt around the more affordable end of the market you will find the odd Harrington there too. OK, the quality might not be the same and the branding might be an issue for you, but there are cheaper options.
Both Baracuta and Fred Perry have introduced a premium cord Harrington of late, so I thought I would mention the cord Harrington in Next. Brown and navy are the collars, with the button collar, button pocket and elasticated waist and cuffs in place like many others. Even a tartan lining too.
Overall it seems decent value at just £65. Note that it also does a chunky British wool version for £120 too.
Find out more at the Next website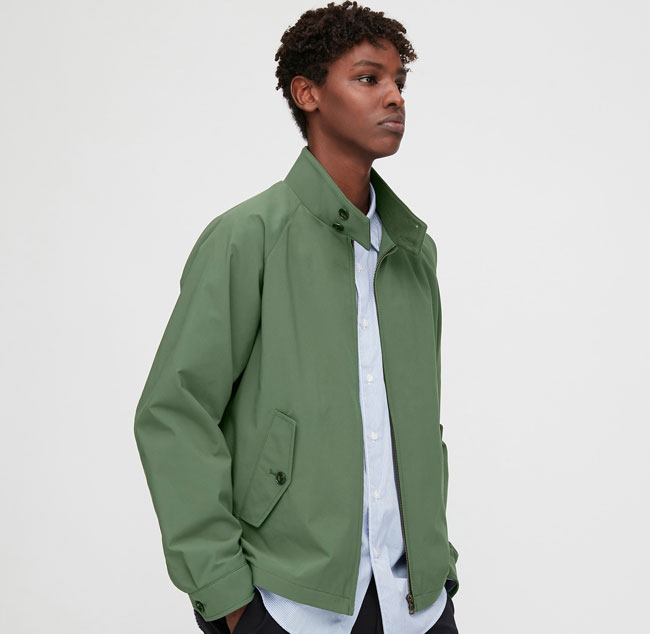 Uniqlo Harrington jacket
This one drops for the spring/summer season every year and pretty much always sells out.
It's a cheap option. As simple as that. Take your pick from three colours, each one with a mixed-fibre construction for a lightweight jacket and with a permanent water-repellent coating. It also has a button collar, button pockets, button cuffs and waist adjusters.
£39.90 for this one.
Find out more a the Uniqlo website
Love His Knibs? If you enjoy what you read and want to support the site, you can always Buy Me A Coffee.